roaring 20's headband,gatsby costume,flapper headband,beaded headband,1920's headwear,black purple feather costume,halloween costume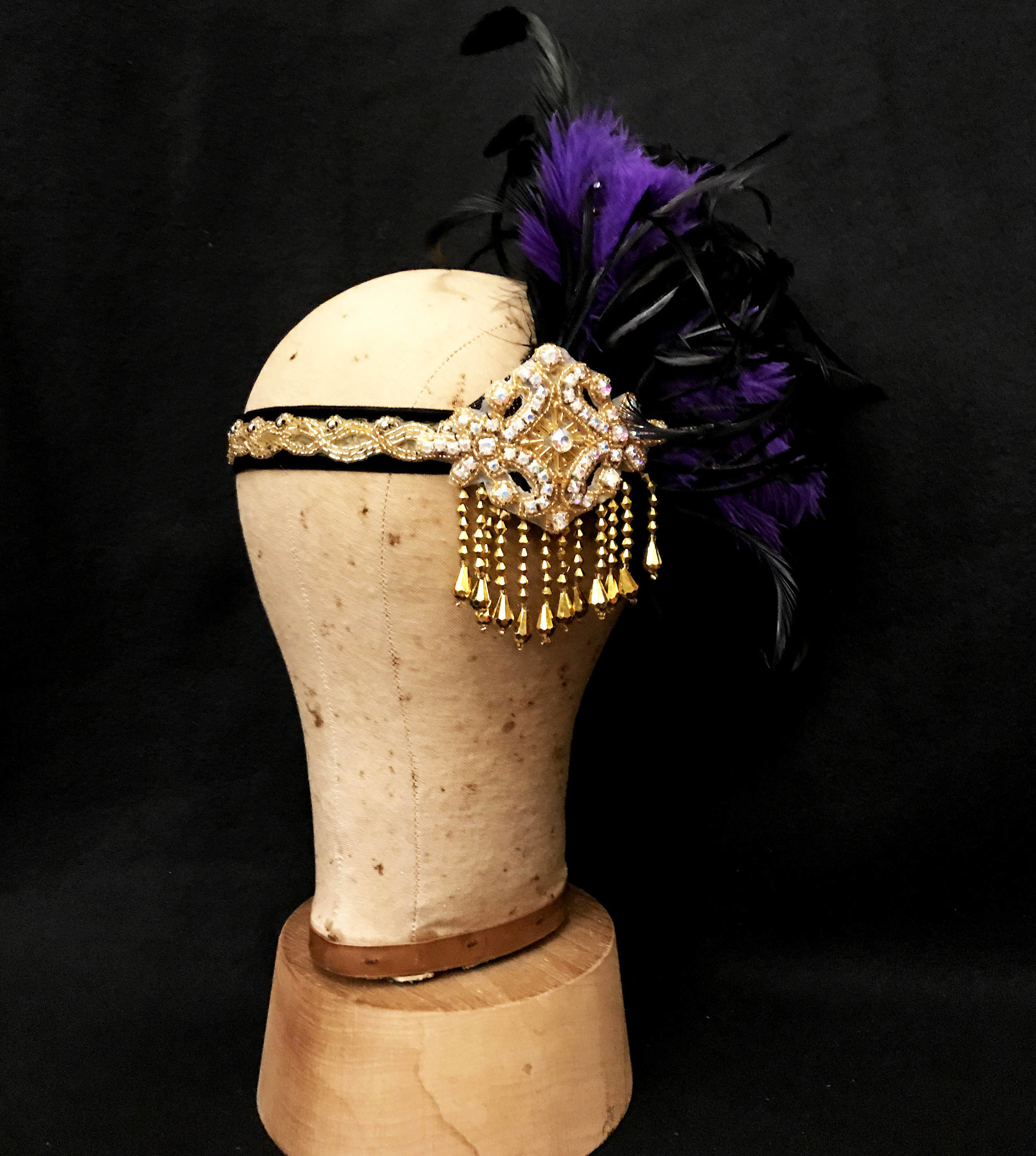 roaring 20's headband,gatsby costume,flapper headband,beaded headband,1920's headwear,black purple feather costume,halloween costume
Roaring 20's Gatsby style beaded headband dripping in gold, sparkles and beading. Doesn't this make you want to run away with Downton Abbey's Lady Rose and become a flapper? This 1920's inspired forehead band is over the top and fabulous for a Halloween costume, Roaring 20's theme fundraiser, or your local Speakeasy. There are layers and layers of lush texture in the headpiece.

This glamorous Great Gatsby type forehead band is based on a velvet ribbon and fits closely via the stretch elastic that is hidden by the feathers. Thegold beaded trim (about 12", based on design) is hand sewn to the velvet headband. Glossy, luxurious black coq feathers form a lush background for the royal purple small fluffy ostrich feathers. The purple feathers are accented with hand applied gold and purple Genuine Swarovski (no cheap imitations) crystals that add flashes of sparkle. The feather design is anchored by a focal point of swirling gold and crystal beads in an art deco design. A triple layer of swinging gold bead trim is hand sewn to give the piece movement.

This custom design was requested in Royal Purple and black- almost any color combo is available. Choices of beading, trim and crystal appliques available in stock in other designs and silver or gold. Entirely meticulously hand sewn.

There are a few pictures included from the design process that use large Eggplant Purple ostrich feathers with hand applied Swarovski crystals. This design option is available for a small additional fee.

Custom Halloween orders place after 10/20 will require a $20 rush fee.