Designer tote bag,High quality bag,Resort bag,Beach bag,Custom tote bag,Resort tote,Pool bag,Quality tote bag,Bird lover bag,Large tote bag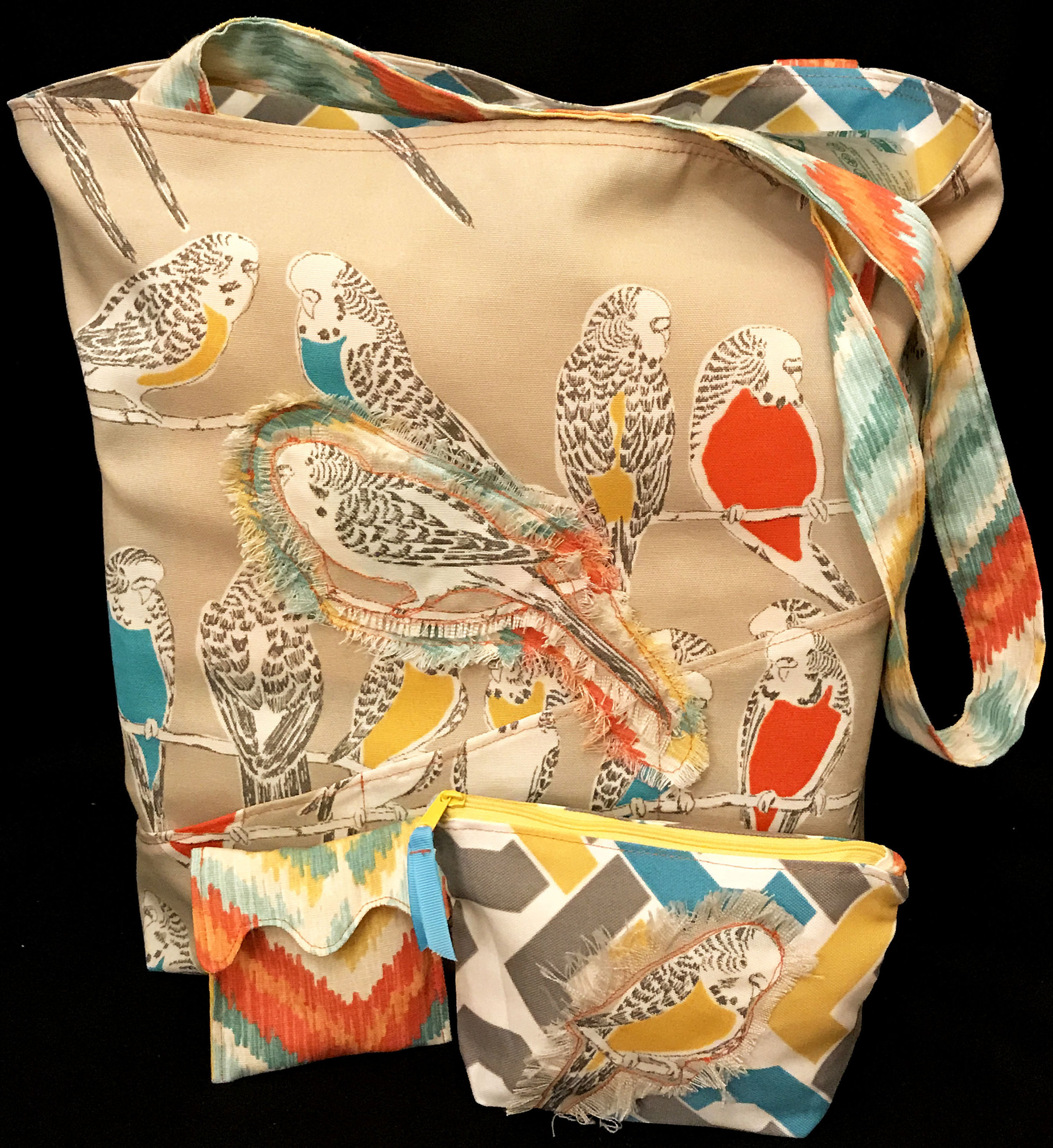 Designer tote bag,High quality bag,Resort bag,Beach bag,Custom tote bag,Resort tote,Pool bag,Quality tote bag,Bird lover bag,Large tote bag
Designer beach tote or pool bag with pockets, zip pockets, accessory bags and a witty, eye catching aviary print featuring parakeets. The front of this high quality bag features an asymmetric panel with 3 pockets. The adorable budgie is an applique that has been textured and sewn on.
Inside of the resort quality tote is gray/blue/yellow graphic print with a coordinating ikat print side pocket on one side and an interior zipper pocket on the other. Sturdy handles made from the ikat print fabric. The entire bag, inside and out is top quality designer outdoor upholstery fabric, so it will take the sun and water.

Size: Approx: 20" x 20" with a 6" box bottom, very roomy.
Pockets: 3 outside front, one inside and one zipper pocket inside.
Handles: approx. 30" total length. Sits comfortably against they body and can be carried over the forearm.
Fabric: All weather (top designer) outdoor upholstery fabric- resists fading, mildew, etc and is rugged and washable.
Color: Beige, white, gray, bright blue, orange and yellow.
Accessories(optional): Zippy bag with budgie approx 8x6x2 and credit card holder approx 4x4 in ikat, both lined.

This custom beach bag is designed for what I NEED in a bag to take to the pool or beach. I can roll up FOUR quality towels, tuck in several sunblocks and drop dry snacks, lip balm, beach pass, book (or 3), orthodontic retainer case, spare goggles, etc, etc plus a large insulated beverage holder. And this is just the inside. The outside pockets are perfect to easily slide your glasses, keys and phone into. Plus that adorable parakeet is batting his eyes at you!

If you're at a resort, and don't have to lug everything around, this is elegant and well made. No body wants a cheapy, flimsy bag after you've just splurged on a great suit and killer cover up. You can tuck your starfish, beach shells, woven name bracelets, souvenir coconut drink coconut, etc in with no problem. If the starfish is still a bit stinky, it will wash right out!

I make these as "thank yous" for friends who invite us to their beach houses, organize summer trips, etc. Everyone LOVES them! This is an exceptional gift because it is unique, useful and well thought out.

The accessory bags are available in this listing:
Buying the group offers a bit of a discount.
I'll ship in a padded envelope to keep cost down and refund and difference over $1.

This is *MADE TO ORDER* and the fabric is *SPECIAL ORDER* so please allow 7-14 days. I've never taken 14 days to get anything out, but it depends on the fabric. Each bag is hand made and and may vary slightly due to placement of fabric and slight design/construction modifications. Other fabric combos, bag designs and bag sizes available.