Statement Headpiece in Purple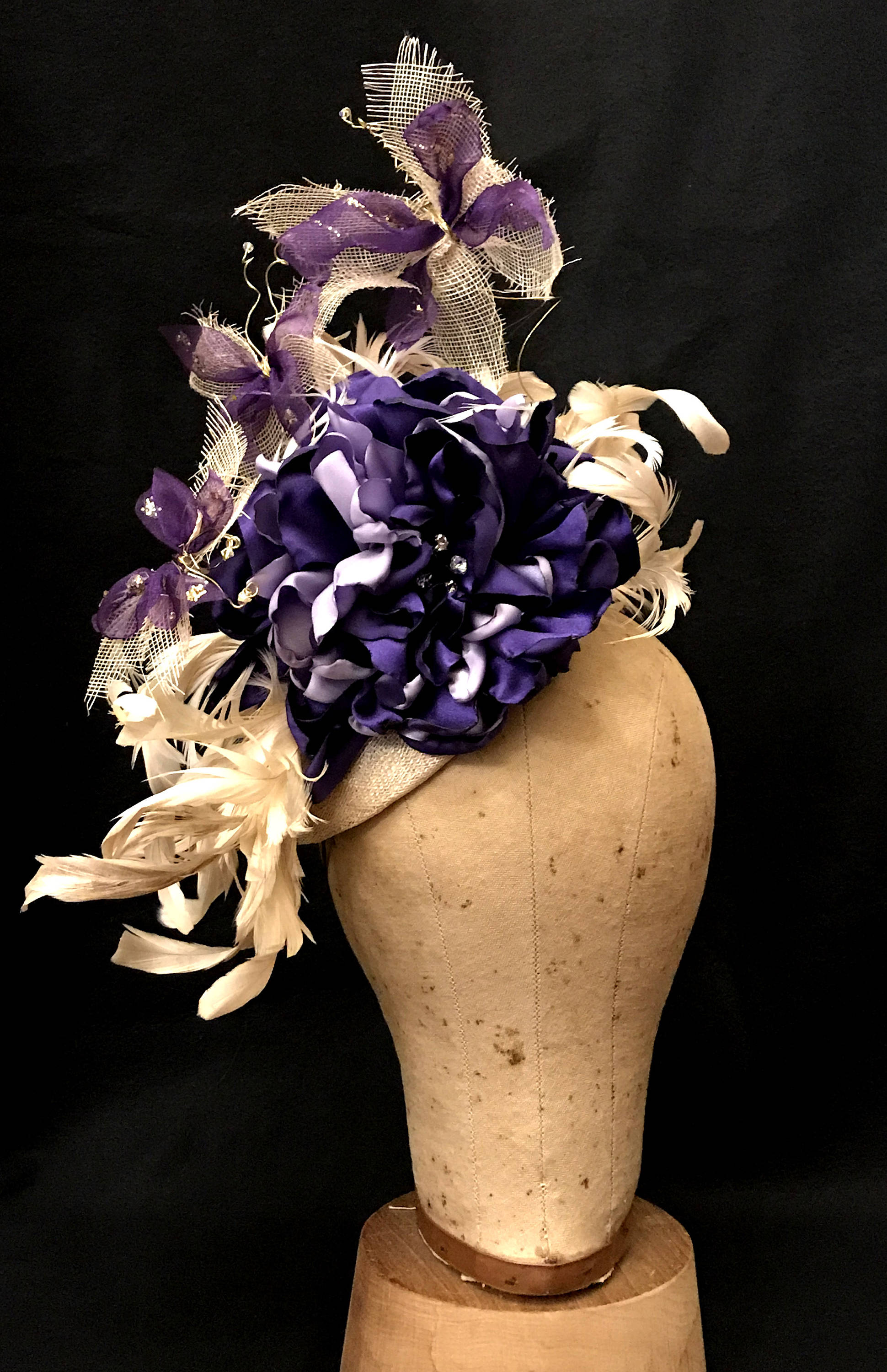 Statement Headpiece in Purple
Stunning statement headpiece for the Kentucky Derby or summer to fall horse racing season.
The opportunities to wear a spectacular statement hat are too few and far between- make the most of it! Are you attending the Mad Hatter's Tea in Dallas, TX in April…you know you need to stand out!
· Made to Order, allow 2-3 weeks
· Communicate your event date, we can ship to your hotel
· Color: Natural
· Created from: sinamay , feathers, satin, tulle, Swarovski crystals.
· Size: approx. 13" across
· Affixes to head: hat elastic, comb and clips
· FREE SHIPPING contiguous 48 US states, International shipping available
· Handmade, may differ slightly from the picture
Every Charming Lady Designs headpiece or handbag is hand made by Marianne at her millinery workshop in Allen, TX, just north of Dallas, TX. Exacting, centuries-old methods and premium materials are used to create millinery, fascinators and hats of the highest hand-sewn and blocked standards. Handbags are crafted with minute attention to detail and charming personal touches. Nothing leaves Marianne's hands until she loves it and knows you will to!

The garden influenced fascinator features a large and luxurious satin camellia inspired flower composed of layers of complimentary colored petals and finished with rhinestone tipped stamens. Dancing up from behind the floral piece are 3 handmade butterflies crafted from layered sinamay and tulle. The butterflies are wire wrapped with sparkling Swarovski crystals on the antennae and accents of gold glitter to add the glamour. Surrounding the butterflies and camellia is a waving lawn with two types of fluttering feathers, spilling over the sides and adding to the assymetric height of the piece. This butterfly and floral fascinator is a visual delight!

This dramatic fascinator has an approximately 6" across round lined sinamay base hand blocked and hand sewn in my workroom. It is secured to the head using a hat elastic, a plastic comb and a small snap comb. These little bits of "hat magic" give you the stylistic freedom to place it on your head securely wherever you prefer.

Entirely hand sewn and entirely created and hand crafted by me. This piece, as shown, was a custom order for Opening Day 2017 at the Del Mar Racetrack in CA. It is created in purple and natural to match my client's outfit. Your Kentucky derby style headpiece can be created for you in whatever colors are perfect for YOUR outfit. The piece is complex, consisting of over 100 feathers and multiple hand created components, therefore I require 2-3 weeks to ship.

Made to order, multiple colors available. coral, lime green, med pink, hot pink, light blue, navy blue, ocean blue, turquoise, scarlet red, garnet red, black, natural, ivory, white, purple, bright orange, grey, bronze (taupe).